I am SO excited to share how to do an EASY DIY faux fur stool! You can find a regular stool to recover or you can use a side table and convert into a stool! I used a Nate Berkus for Target side table because I loved the legs so much!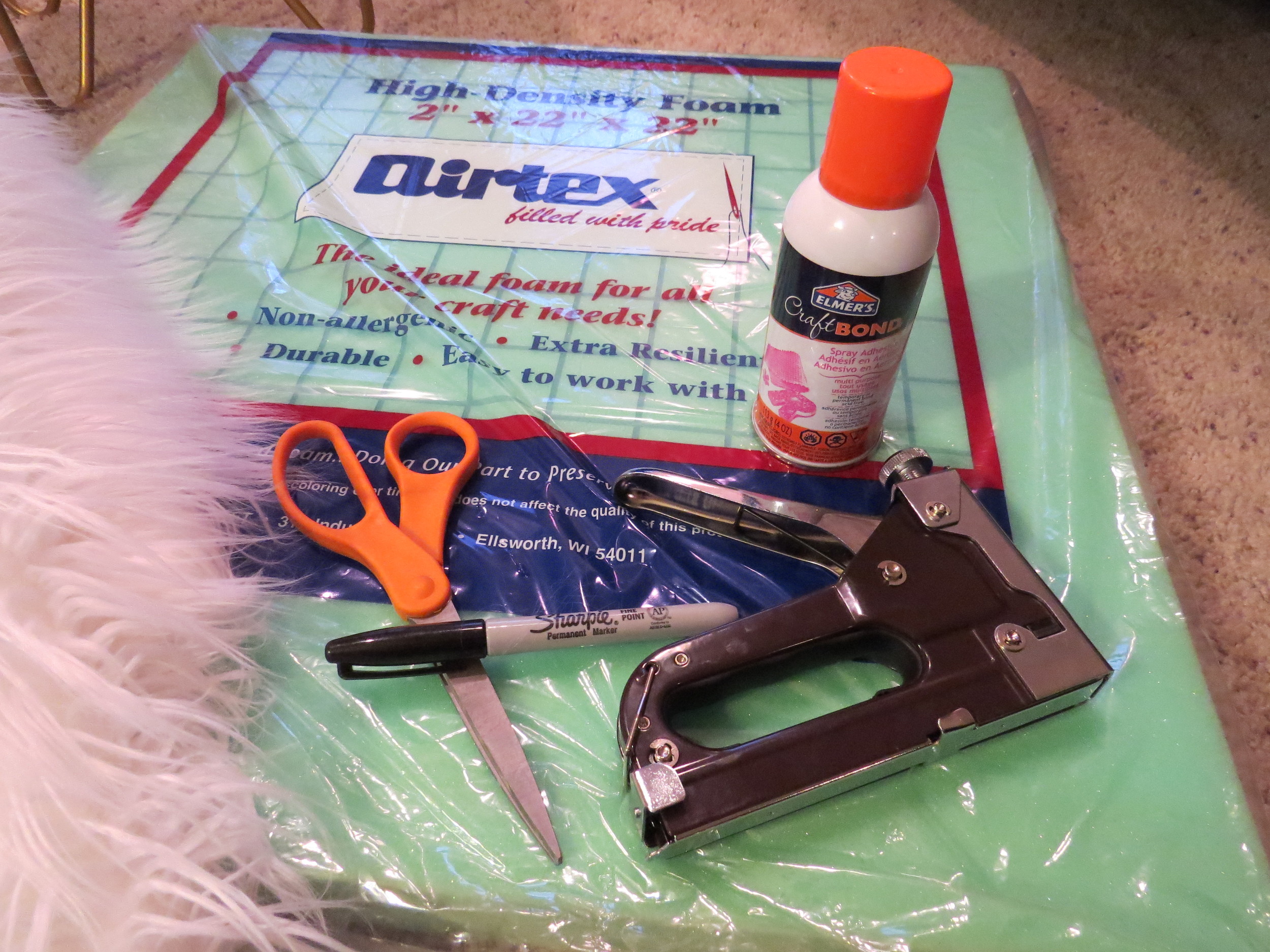 TOOLS: Pair of sharp scissors, adhesive spray (I used Elmers Craft Bond), a sharpie, staple gun, a yard of faux fur, and foam if you are converting a side table (I used a 2in high density foam.)
SIDENOTE: I recommend buying white foam! My stool turned out with a slight green tint.. whoops!
STEP 1: Place the stool upside down on foam. Use the sharpie to trace around the stool and then cut out the circle.
STEP 2: Spray seat with the adhesive (make sure to cover very evenly!) It's super sticky so be sure not to touch it after you spray! Place the foam on the seat and make sure it is centered properly. The adhesive I used said to let it sit for 30 minutes. Double check the instructions on your spray to make sure it bonds fully.
STEP 3: Once the adhesive is dry, place the stool upside down and cut around it. Make sure to cut several inches outside the stool to ensure you have enough fabric to wrap underneath.
STEP 4: Fold the faux fur underneath the stool and staple! I didn't have any sort of technique for this, I literally just stapled away! No one will see the bottom of the stool, so it didn't need to be pretty :)
TIP: To ensure the fabric stays center and taught so that there won't be any creases once you flip the chair over, it helps to staple opposite sides at a time while also pulling on the fur to create tension.
VOILA! You now have a super cute faux fur stool all under $100! You can be stylish and budget friendly :)
Next time you see a short side table or even a stool at a flea market that needs some TLC, just remember that you can easily take it from drab to fab with this easy DIY! If you get inspired to create one for yourself, here are some cute options to convert into faux-tastic fabulousness.
[B]